Start Selling Online Today
Grow your business faster by selling at THE ORGANIC SUPERMART
Open and operate an online store at Free Setting Up Charges.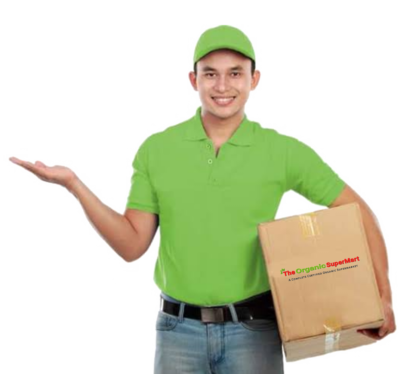 The Organic Supermart focuses on empowering ORGANIC PRODUCTS sellers across India.
Why sell on TheOrganicSupermart.com

Secure payments, regularly
Your money is safely deposited directly to your bank account every 7 days, even for Pay-on-Delivery orders.

Storage & Packing Facility
The Organic Supermart takes care of Storage, Handeling, Pick and Packing
We take care of delivering your products through THE ORGANIC SUPERMART FULFILLMENT
Get paid support from third-party professionals for Registrations, Licences and much more
(1) Certified Organic Groceries. (2) Certified Organic Nutritional Products, (3) Certified Organic Beauty & Cosmetics Products, (4) Certified Organic Apparel & Clothings, (5) Certified Organic Sanitary Pad, (6) Certified Organic Sanitary Pads, (7) A2 Milk & A2 Milk Products, (8) Wild Honey & Other Organic Products. Etc.
If you want to sell on TheOrganicSupermart.com, you will need to create an account and stock your organic products in our stockyard. You can start this by creating an account, It takes just 15 minutes and You need just 6 things to become a The Organic Supermart Seller :
Have all Documents ? Start your Registration
Once you have created your Seller Account, you can make your product available for sale on TheOrganicSupermart.com through the listing process. Here's how to do it :
If you are selling something already available for purchase on TheOrganicSupermart.com , then you can simply list your product by matching it to an existing product.
If you are a brand owner or you are selling a new product, you will need to create a listing for your product by adding all it's information such as product details, dimensions, images, features and variations
Storage, Packaging & Delivery
The Organic Supermart takes care of Storage, Packing & Delivery
After Listing your all products in the website, You need to pack your newly products safely in Cartons / Bags in sufficient quantity for Each Fulfillment Centre Separately for pickup products from your warehouse and fill Product Application Form. You will get Product Approval and barcodes, label printing information etc. via E-mail, then we will arrange pickup your products and store your products to various THE ORGANIC SUPERMART FULFILLMENT CENTRE (TOSFC)
Once an order is placed, The Organic Supermart handles everything from packaging to shipping your product to the customer.
The Organic Supermart manages returns and customer support.
Once you become an TheOrganicSupermart.com seller, you will begin receiving orders. After your account is verified, your payments for these orders will be deposited in your bank account every 7 days (minus the The Organic Supermart Fees). You can view your settlements anytime on your Seller profile and can contact Seller Support in case of queries
THE ORGANIC SUPERMART FULFILLMENT CENTRES
As an TheOrganicSupermart.com seller, you will always have our support. If you have a question, we will answer it. If you are looking to outsource services to a professional service provider, we can help. Or, if you simply want to learn on your own, we are there to support you.
We are available in Just a one click away on 24×7 Whatsapp Chat Support
+91 7898169394 or Call in Our Office Working Hours.